A V A Y A


Headquartered in Milpitas, California, Avaya Octel Messaging Division originates from a result of Lucent Technologies' acquisition of Octel Communications Corporation in September 1997. Lucent, in 2001, then spun off its own voice mail product lines along with Octel into the company now known as Avaya. Today, Avaya Octel Messaging Division is committed to connecting people throughout the world via messaging, freeing them to communicate unconstrained by time, place and space. The Avaya Octel Messaging Division's products and services offer the flexibility to communicate using all media types.

With more than 110 million mailboxes in 90 countries worldwide, the Avaya Octel Messaging Division is one of the world's leading providers of advanced voice messaging technology. The Avaya Octel Messaging Division is a pioneer in the field of unified messaging, which has revolutionized the way people access and manage voice mail and e-mail communications. The Avaya Octel Messaging Division's solutions are based on open platforms, and leverage industry standards and existing infrastructure investments.

Avaya Octel 50 / Smooth Operator™
Introduced in 1989, Smooth Operator has become the number one voice processing system in the indrusty through it's power, sophistication, and affordability. Smooth Operator is designed to meet the needs of organizations ranging from small to large. Major applications have been design for both the Standard and Virtual Office, Call Center and Message Centers, Universities, Manufacturing & Wholesale Distribution, Car Dealerships, Sales and Service Centers, Hotel/Motel, Trucking companies, and Hospitals.
Avaya Octel 100 Overture™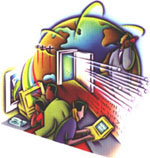 Avaya Octel 100 is the smart, cost-effective way to enhance your telephone system with the latest multimedia messaging technologies that will increase customer satisfaction and help you run your business more effectively. Avaya Octel 100 puts the power of integrated voice and fax messaging to work for your business, delivering solid benefits!

Avaya Octel 200/300 Overture™

Octel 200 and 300 message servers are highly integrated multi-media servers that provide businesses with a comprehensive set of messaging and computer telephony solutions and access to open, flexible data networks. Octel 200/300 servers are available globally in over 80 countries. Octel Serenade™, the standard telephone user interface and feature set, provides fast, convenient access to a broad menu of messaging options, as well as logical and unparalleled ease of use. The Aria™ telephone user interface may also be selected on a user-by-user basis.
Avaya Octel 250/350 Overture™

Take advantage of the Octel 250/350 message servers to position your company for eBusiness success by strengthening the essentials of communication. Octel 250/350 message servers' unique architecture assures the highest possible up-time by permitting on-going system operation while most of the maintenance procedures take place. LAN backup/restore and Global Redundancy Messaging (GMR) provide further protection against lost messages in the event of an unexpected interruption in service.

Avaya Octel Aspen™ Expansion & Replacement Parts
Expansion cards, drives, cpu's, and chassis for nearly all voice mail systems! Here is an Avaya Octel Aspen Branch, Aspen Branch XP, and Aspen Standard boards and hard drives of all sizes are stocked. Includes specialty Tie cards for Nortel, scanners, file cards, CPU's, etc. If you need Aspen product, we've got it along with the best Aspen support technicians in the industry. Call or request a Quick Quote!


About | Contact | Help Center | News | Products | Quick Quote | Specials | Support